Concrete Answers Series for Architects, Engineers and Developers |
Click here for more answers
Concrete Buildings Reduce Energy Use

Studies indicate that 80% or more of the greenhouse gases generated from structures are released through energy produced for their ongoing heating and cooling.
Insulated concrete wall systems provide high R-value and thermal mass with low air infiltration to provide superior thermal efficiency and optimal energy performance over the long life of the building. Since homes and buildings constructed with insulated concrete walls are not subject to large daily temperature fluctuations, owners can lower heating and cooling bills by up to 25 percent. Heating, ventilating and air-conditioning can also be designed with smaller-capacity equipment for additional savings.
Concrete interior and exterior finishes frequently require no additional treatments as well, reducing costs and energy consumption during construction and for ongoing maintenance.
Estimated annual heating savings for ICF wall systems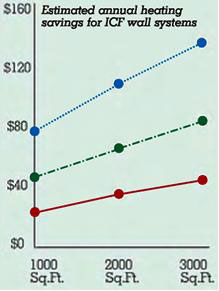 This chart illustrates the estimated annual heating savings produced by Insulating Concrete Form (ICF) wall systems for three different building sizes in cold climates, moderate climates, and warm climates.
ICF construction produces comparable savings in cooling expenses.

Cold Climates

Moderate Climates

Warm Climates
More energy efficient examples...

Waterproof concrete for Green Rooftops

See Green Building Technology in use at St Anne's Belfield Middle School, VA: Click on "Green Features"
A joint project between Allied Concrete and VRMCA.